Welcome to the official website of the B.S. Johnson Society!
The Society is here to honour the life and work of Bryan Stanley Johnson (1933-1973).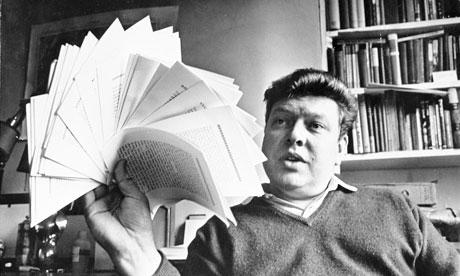 The Society's aim is to bring together members of the Society for a yearly keynote lecture, as well as a bi-annual academic conference on the author, and launch the project of a B.S. Johnson Fest.
If you would like to take part in it and help us organize yearly social events, get in touch!
News
September 2014
The B.S. Johnson Journal is out and available for purchase:
*
Scroll down to the bottom of the Resources Page for readings
of and about B.S. Johnson recorded
on the occasion of the 80th anniversary of the author's birth
(British Library, Feb. 2013).
*
*
 April 2013
The BFI has announced the release of B.S. Johnson's films
on DVD and Blu-ray.
Go onto the B.S. Johnson page of the BFI website to find out more about
You're Human Like The Rest of Them: The Films of B.S. Johnson.
*
Feb. 15th 2013

at the British Library
6.30 – 8pm, £7.50 or £5 concessions.

*
New literature on Johnson:
contains one chapter dedicated to B.S. Johnson, check it out and tell us what you think!
*
B.S. Johnson's Lost Play Screening – Rediscovered TV treasures – including a complete screening of a thought-lost Dr Who episode.
*
Saturday 29th September 2012 – London, Southbank Centre.

Jonathan Coe, Julia Jordan and Philip Tew discuss the work of B.S. Johnson in a series of talks on Modernism.

Novelist Jonathan Coe, author of a 'Like A Fiery Elephant – The Story of B S Johnson' joins Julia Jordan and Philip Tew, joint editors of Johnson's work, to discuss one of post-war Britain's most experimental writers.

Among Johnson's best-known works is the novel 'London Consequences' consisting of a palimpsest of chapters passed between a range of participating authors, and edited by Margaret Drabble and Johnson himself.

In 1969, his work The Unfortunates was published in a box with no binding, inviting readers to assemble the book in the order they chose.

The speakers discuss Johnson's life and his growing influence on succeeding generations.

*

The British Library is delighted to announce the acquisition of 17 books by B.S. Johnson.

The books are a generous donation to the Library by Johnson's close friend and collaborator Zulfikar Ghose.

Each book has an inscription by Johnson to Ghose which vary from simple inscriptions, to poignant comments such as "…this novel which cost me so much pain" written inside the protective box of The Unfortunates and perhaps most significantly the inscription under the colophon of House Mother Normal stating the edition is limited to 126 copies of which 26 copies, lettered A to Z, are for the author's use.

Johnson has written that "Z must be for Zulfi oldest of friends if now nearly furthest, who thinks this novel my worst: proving we all decay in the in the end: me sooner than most: with love, Bryan 24/5/71".

 All the books have dust-jackets, where issued, which will be retained with the volume.

The collection will be available to readers in due course after cataloguing.
 *
One of the Society's members, Richard Leigh Harris, composer and lecturer, has just published his memoirs, and section 36 is dedicated to Bryan Stanley Johnson: Richard Leigh Harris, The Days of Our Vanity: A Memoir, SilverWood Books, 2012, pp. 204-209.
*
Forthcoming event
The B.S. Johnson Symposium, 5th May 2012 at the University of Sussex.
  B.S. Johnson and the Possibilities of the Avant-Garde
A one-day conference at the University of Sussex, Saturday 5th May 2012
 In association with the B.S. Johnson Society and Cardiff University
B.S. Johnson has been described as the 'one-man avant-garde of the 1960s'. This conference seeks to locate Johnson as part of the wider avant-garde – British, Irish and continental – and to ask what other genealogies are at play in his work, for instance the persistence of modernism. We ask for papers that consider the full range of his work – filmic, poetic, dramatic, and journalistic, as well as literary – in a variety of contexts, including historical, philosophical, and theoretical, to build on the recent surge in critical and scholarly interest in Johnson. Please send 300 word abstracts to JordanJE@Cardiff.ac.uk by March 1st 2012. If you wish to attend, but not submit, please register your interest with M.H.Ryle@Sussex.ac.uk.
Conference fee: £25; £15 for B.S. Johnson Society members; £10 for students and the unwaged. The conference fee will include coffee and lunch.
Confirmed participants so far include David James (Nottingham), Rod Mengham (Jesus College, Cambridge), Philip Tew (Brunel) and Nicolas Tredell.
Conference sponsored and supported by the Centre for Modernist Studies, Sussex University and co-organised by Julia Jordan (Cardiff) and Martin Ryle (Sussex)
*
A members' meeting took place on Friday 23 September 2011
at the British Library to help fill in some roles and make sure we're responding to Johnson readers' expectations. Become a member now (for free) and send us an email if you'd like to hear more about what was discussed.
*
Donations are welcome to help us develop the B.S. Johnson Society online Journal.
*
Towards a B.S. Johnson Day?
Mark Hooper came up with the fantastic idea that there should be a B.S. Johnson Day to celebrate the writer's ability to reconcile readers and non-readers with books thanks to formal experiments and an incredible sense of humour.
When should the B.S. Johnson Day be though? February 5th (the day of his birth) or November 13th (the day of his suicide)?
Let us know what you think! Vote in the sidebar to the right of this page (B.S. Johnson Poll).