Welcome to the official website of the B.S. Johnson Society!
The Society is here to honour the life and work of Bryan Stanley Johnson (1933-1973).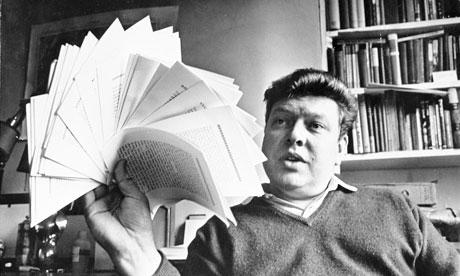 The Society's aim is to bring together members of the Society for a yearly keynote lecture, as well as a bi-annual academic conference on the author, and launch the project of a B.S. Johnson Fest.
If you would like to take part in it and help us organize yearly social events, get in touch!
News
May 2021
The New Perspectives theatre company is glad to announce the launch of the digital installation House Mother Normal on May 5th.
The installation will remain available online until May 31st, 8.30 pm.
A physical experience of the installation can be made at the Brighton Festival
from May 17th until May 31st at 2.30 pm.
Booking

is

required

for either installation.
Tickets available here (Brighton Festival website) or through the New Perspectives Theatre Company's website here. 
Photo: Amelda Brown and Jesse © Robert Day Photography
*
December 2020
The theatre company 'NEW PERSPECTIVES' has been in touch and wishes to hear from readers of House Mother Normal to start a conversation about how best to adapt it to the theatre.
They have been touring for 46 years in the Midlands mainly, but also in Edinburgh, London and New York and they have recently been engaging with their audiences via a live Zoom play, Podcasts, a drama series experienced through Postcards and even a drama on WhatsApp!
For this adaptation of 
House Mother Normal 
suggested by their Artistic Director, Jack McNamara, discussions with director Tim Crouch have already started. If you are in the UK and wish to respond to a set of suggestions for the play, you can get in touch directly with the producer Neale Birch, by emailing him at 
neale@newperspectives.co.uk
*
September 2017
Call For Papers: On the Theme of "Endings"
Deadline for submissions: 15th January 2018
The editors of BSJ: The B.S. Johnson Journal request academic papers, essays, interviews, creative works or remembrances on the theme of endings. Johnson's novels featured a range of innovative endings; from the "almighty aposiopesis" of Albert Angelo, to the unexploded bomb in Christie Malry, to the metafictional imposition of the House Mother in House Mother Normal. In the interests of exploring endings and the ways in which they can define, fix or unsettle the meaning of texts, we are seeking submissions that engage with our theme; be it a creative piece with an interesting ending, a theoretical engagement with Johnson's work, or an interpretation of the wider connotations of the theme: limits, finality, death.
We welcome academic papers of between 6,000 and 8,000 words and essays of between 500 and 2,500 words (papers will be thoroughly peer-reviewed and must conform to academic standards, essays do not need to meet these requirements and are usually more journalistic or personal in style). Short stories, poetry and innovative forms are welcome at any length, short or long. Suggestions for reviews may also be made to the editors, but making contact first is recommended to avoid reviewers overlapping. Although submitted work need not be directly about B.S. Johnson, the journal aims to promote his legacy and therefore favours work that display a commitment to truth, formal innovation or working class modernism.
*
March 2017
Three short plays by B. S. Johnson
You're Human Like the Rest of Them
Down Red Lane
Not Counting the Savages
Sundays, Mondays and Tuesdays, 5, 6, 7, 12, 13, 14, 19, 20, 21 March 2017
"Laughter is a weapon: all you can do is laugh, isn't it?"
Spanning ten years of Johnson's short yet prolific career, the evening features the first UK revival in many years of Johnson's short plays You're Human Like the Rest of Them and Down Red Lane, and the world stage premiere of Not Counting the Savages.
The run will be accompanied by the FINBOROUGHFORUM, a series of informal post-show discussions and debates, on Monday evenings: 13 and 20 March. All events are free to ticketholders for that evening's performance of the play. FINBOROUGHFORUM events will all be Twitter friendly with live tweets from @FinboroughForum. Using the hashtag #finfor, the speakers will also answer questions posed on Twitter so everyone can be included, no matter where they are in the world. The events will feature a Q&A session with Steve Johnson, discussions with academics, industry professionals and members of the cast and company.
Sundays, Mondays and Tuesdays 5, 6, 7, 12, 13, 14, 19, 20, 21 March 2017
Sunday and Monday evenings at 7.30pm. Tuesday matinees at 2.00pm.
Performance Length: Approximately 90 minutes with no interval.
Tickets £18, £16 concessions
(Group Bookings – 1 free ticket for every 10 tickets booked.)
FINBOROUGHFORUM events: Mondays, 13 and 20 March 2017.
For details of our Returns Policy for sold out performances, please click here
PLEASE NOTE THAT LATECOMERS CANNOT BE ADMITTED AND TICKETS CANNOT BE EXCHANGED OR REFUNDED.
*
February 2017
The 3rd issue of the B.S. Johnson Journal is out!
The third issue of the B.S. Johnson Journal: 'The issue with the truth', featuring essays, interviews, peer-reviewed academic papers and creative pieces inspired by the British writer, with contributions from Andrew Robert Hodgson, Ed Sibley, Scott Manley Hadley, Philip Tew, Joanna Norledge, Jeremy Page, Alaska James, Richard Berry, Philip Terry, James Davies, Sue Birchenough, Ali Znaidi, Tim Chapman, Jim Goar, James Riley, Ruth Clemens, Kate Connolly, Joseph Darlington and Andy Miller
*
February 2016
The B.S. Johnson Journal is pleased to announce the new theme for our forthcoming issue : "Truth".
Johnson struggled with questions of truth his entire life and we now invite research papers, journalistic essays, creative writing, reviews and reminiscences all struggling with the same issue. These might entail readings and reassessments of Johnson's work from contemporary theoretical perspectives, pieces utilising historical or archive research, or new works that have been created based on or responding to Johnson's work and insights.
Johnson produced a lot of fictional and programmatic efforts aimed at telling the "truth" in the hope that it would make up for the "chaotic" nature of life. Johnson's now famous assertion that firstly, "the two terms novel and fiction are not … synonymous" and that, secondly, he chose "to write truth in the form of a novel", have led critics to call his position doctrinaire and solipsistic, if not boring. The third issue of The B.S. Johnson Journal seeks to see how Johnson's quest for truth in novels extends to his short stories, poetry, journalistic pieces and films.
Julia Jordan, in her introduction to B.S. Johnson and Post-War Literature – Possibilities of the Avant Garde (2014), points out the paradoxical tension in Johnson's prose between dogmatism and elusiveness. This reminds us that we need a systematic reading of the treatment and presentation of Truth in Johnson's work. Indeed, if we take the truth to mean what happened to the author – as he invites us to do in his quoting Beckett in the preface to Albert Angelo: "There is nothing else, let us be lucid for once, there is nothing else than what happens to me" – then Johnson's prose becomes irrelevant for anyone but himself. Or does it?
Vanessa Guignery (2009) invites us to see beyond the autobiographical truth Johnson wants to lend to his work, to consider instead the phenomenological dimension of which she finds evidence in Johnson's short story "What Did You Say The Name of the Place Was?". We therefore invite Johnson's readers to read beyond the author's dogmatic judgements to question the resonance of Truth in his work. Proposals may engage with one or more of the following questions:
How do Johnson's most solipsistic art productions manage to engage the reader or spectator ? What does Johnson's engagement with Truth tell us about his view of the role art should or could play in Society ? Can his will to tell the Truth be related to the Zeitgeist of the 1960s ? Can Truth be relayed in third-person pronoun narratives ? How does it compare with first-person narratives ? Can self-consciousness be synonymous for truth ? Where does Johnson's truth locate itself ?
Please submit your work for consideration, along with any enquiries, to the editors at bsjjournal@gmail.com by

Monday 2nd May, 2016

. We look forward to hearing from you!
*
September 2015
The second issue of the B.S. Johnson Journal is available! Get your copy on the self-publishing site Lulu.com 
'The issue with materiality', featuring essays, interviews, peer-reviewed academic papers and creative pieces inspired by the British writer, with contributions from Melanie Seddon, Romén Reyes-Peschl, David Hucklesby, Joseph Darlington, Andrew Motion, Denisa Hobbs, Michael Pennie, Richard Russell, Gemma O'Connell, Simon Dawes, Richard Leigh Harris, Hannah Van Hove, Stephanie Jones, Mark Yates
*
September 2014
The B.S. Johnson Journal is out and available for purchase:
*
Scroll down to the bottom of the Resources Page for readings
of and about B.S. Johnson recorded
on the occasion of the 80th anniversary of the author's birth
(British Library, Feb. 2013).
*
*
 April 2013
The BFI has announced the release of B.S. Johnson's films
on DVD and Blu-ray.
Go onto the B.S. Johnson page of the BFI website to find out more about
You're Human Like The Rest of Them: The Films of B.S. Johnson.
*
Feb. 15th 2013

at the British Library
6.30 – 8pm, £7.50 or £5 concessions.

*
New literature on Johnson:
contains one chapter dedicated to B.S. Johnson, check it out and tell us what you think!
*
B.S. Johnson's Lost Play Screening – Rediscovered TV treasures – including a complete screening of a thought-lost Dr Who episode.
*
Saturday 29th September 2012 – London, Southbank Centre.

Jonathan Coe, Julia Jordan and Philip Tew discuss the work of B.S. Johnson in a series of talks on Modernism.

Novelist Jonathan Coe, author of a 'Like A Fiery Elephant – The Story of B S Johnson' joins Julia Jordan and Philip Tew, joint editors of Johnson's work, to discuss one of post-war Britain's most experimental writers.

Among Johnson's best-known works is the novel 'London Consequences' consisting of a palimpsest of chapters passed between a range of participating authors, and edited by Margaret Drabble and Johnson himself.

In 1969, his work The Unfortunates was published in a box with no binding, inviting readers to assemble the book in the order they chose.

The speakers discuss Johnson's life and his growing influence on succeeding generations.

*

The British Library is delighted to announce the acquisition of 17 books by B.S. Johnson.

The books are a generous donation to the Library by Johnson's close friend and collaborator Zulfikar Ghose.

Each book has an inscription by Johnson to Ghose which vary from simple inscriptions, to poignant comments such as "…this novel which cost me so much pain" written inside the protective box of The Unfortunates and perhaps most significantly the inscription under the colophon of House Mother Normal stating the edition is limited to 126 copies of which 26 copies, lettered A to Z, are for the author's use.

Johnson has written that "Z must be for Zulfi oldest of friends if now nearly furthest, who thinks this novel my worst: proving we all decay in the in the end: me sooner than most: with love, Bryan 24/5/71".

 All the books have dust-jackets, where issued, which will be retained with the volume.

The collection will be available to readers in due course after cataloguing.
 *
One of the Society's members, Richard Leigh Harris, composer and lecturer, has just published his memoirs, and section 36 is dedicated to Bryan Stanley Johnson: Richard Leigh Harris, The Days of Our Vanity: A Memoir, SilverWood Books, 2012, pp. 204-209.
*
Forthcoming event
The B.S. Johnson Symposium, 5th May 2012 at the University of Sussex.
  B.S. Johnson and the Possibilities of the Avant-Garde
A one-day conference at the University of Sussex, Saturday 5th May 2012
 In association with the B.S. Johnson Society and Cardiff University
B.S. Johnson has been described as the 'one-man avant-garde of the 1960s'. This conference seeks to locate Johnson as part of the wider avant-garde – British, Irish and continental – and to ask what other genealogies are at play in his work, for instance the persistence of modernism. We ask for papers that consider the full range of his work – filmic, poetic, dramatic, and journalistic, as well as literary – in a variety of contexts, including historical, philosophical, and theoretical, to build on the recent surge in critical and scholarly interest in Johnson. Please send 300 word abstracts to JordanJE@Cardiff.ac.uk by March 1st 2012. If you wish to attend, but not submit, please register your interest with M.H.Ryle@Sussex.ac.uk.
Conference fee: £25; £15 for B.S. Johnson Society members; £10 for students and the unwaged. The conference fee will include coffee and lunch.
Confirmed participants so far include David James (Nottingham), Rod Mengham (Jesus College, Cambridge), Philip Tew (Brunel) and Nicolas Tredell.
Conference sponsored and supported by the Centre for Modernist Studies, Sussex University and co-organised by Julia Jordan (Cardiff) and Martin Ryle (Sussex)
*
A members' meeting took place on Friday 23 September 2011
at the British Library to help fill in some roles and make sure we're responding to Johnson readers' expectations. Become a member now (for free) and send us an email if you'd like to hear more about what was discussed.
*
Donations are welcome to help us develop the B.S. Johnson Society online Journal.
*
Towards a B.S. Johnson Day?
Mark Hooper came up with the fantastic idea that there should be a B.S. Johnson Day to celebrate the writer's ability to reconcile readers and non-readers with books thanks to formal experiments and an incredible sense of humour.
When should the B.S. Johnson Day be though? February 5th (the day of his birth) or November 13th (the day of his suicide)?
Let us know what you think! Vote in the sidebar to the right of this page (B.S. Johnson Poll).